Share
Left without cheap housing loans by today's standards and even without feedback, people share their resentment wherever possible: on social networks, the media, forums and profile sites. "Fontanka" gathered their stories into one text, in which she tried to describe the scale of the disaster.
On March 29, Sberbank's clients began to receive rejections of previously approved mortgage applications. The bank explained that rates have risen since March 1, if the client has not signed a contract by March 30, inclusive, he will now be asked to submit a new application and wait for approval under the new conditions. Either so, or abandon the purchase of housing at all, because we are talking about rates of 19% per annum on the secondary, instead of approved a month ago 9-11%.
"Sber warned customers in advance that the validity of the approved applications was 30 days and operated within the previously defined conditions – throughout March, customers received a mortgage at previously approved rates. Other market participants changed the terms of mortgage rates much earlier. Mortgages on market terms are now available to customers, as well as preferential rates on government mortgage support programs, "the bank's press service added.
However, judging by the reaction of customers, it is still a surprise for them. Angry reviews about the work of the country's largest bank are pouring into profile sites and groups from all over Russia. For example, on March 29-30, Banki.ru published more than ten pages of reviews about Sberbank that have not yet been verified by moderators. At least a third of them, it seems, are related to canceled mortgage applications.
By the time of publication, the VKontakte group of "dissatisfied with the unilateral cancellation of the mortgage" had almost 700 members. They share their stories, which differ mainly in the dates and presence of children, and together seek a solution to the problem. Among the options are a letter to the President of the Russian Federation and a collective appeal to the court. A chat was created for him in the Telegram, which was joined by 800 people.
Reader Sergei shared his bad luck with Fontanka. According to his application, the deal was scheduled for March 28, but due to delays, the deal was postponed to April 5. Chat with the credit manager and realtor in the Domklik application has been closed. Instead of discussing the deal, a standard greeting appeared.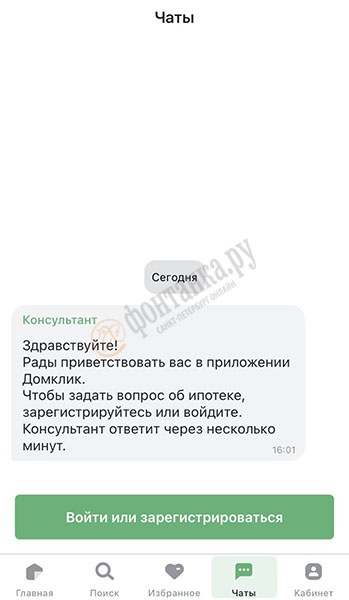 Share
Complainants often point out that credit managers persuaded them to the last that the deal would take place on the old terms, until the parties received a "happiness notice" of refusal at night. For example, a user from St. Petersburg writes.
I have saved all the screenshots of the correspondence with the manager, where he informs that the rate, which was pre-approved in January, will be kept for sure, and after approving the mortgage, I can enter into a deal within a month !!! Screenshots of information have been saved in Domklik that the deadline for entering the deal is April 26 !!! <...> And now I have the audacity to offer me a rate of more than 18%! "
(Hereinafter, the author's spelling and punctuation are preserved. – Ed. Note)
At the same time, the St. Petersburg resident notes that he spent more than 30 thousand. rubles for a legal inspection of real estate and drawing up a contract of sale. You can apply for a refund of these expenses, some say they have already done so.
"I want justice and a deal on the same terms. Is this possible in our country at all? Or no hope at all? – Ilya from Moscow is interested, but there are still more questions than answers – <...> If in the beginning of March Sber's employees said "we accept applications only at new rates" – that's how many people would simply refuse the deal and all? And now try to turn the stuffing back, take your advance from the seller or look for a cheap mortgage again and go through all the checks again, and how to get back the money for the appraisal report, which now no one needs if we do not agree to lend at 20% per annum? Is this legal? Is it possible to cover this with a fig leaf from "the consent of the bank is not an offer and can be revoked for any reason"? "
Dissenting customers, without receiving answers to their questions in chats with bank managers, branches and by phone, seize any opportunity to achieve a fair, in their view, the result. Someone goes to the offices and with a scandal seeks to conclude a contract today. Those who can't get to the office quickly quietly admire the approach or cry in the comments.
There are separate issues related to children. "Like most commentators, the deal was canceled in less than a day. I have a deal with encumbrances – two minor children. And I sold my apartment through the same "people's" Sberbank 24.03.22. As a result, my children are homeless because I can no longer buy a new one approved by the "people's" Sberbank and guardianship authorities. In response, they offer a new rate, thank you, I barely scraped together for this mortgage, "a user from Vladimir wrote on Banki.ru.
The group has received information that if minors are involved in the deal, it will still be possible to conclude it on the old terms, but traditionally there is a nuance.
– If minors participated in the transaction as a seller or as a buyer, they can resume the transaction, – pleased some colleagues, unfortunately Ilya Shabunov from Tomsk – Exactly what would participate were registered as buyers or sellers. " "It simply came to our notice then. We have 4.04, underage sellers are involved in the deal. The information has been updated in DomKlik, "Anastasia Abashina from Togliatti echoes him on VKontakte.
Realtors obviously know more. Reader Marina told Fontanka that she learned from the bank's newsletter for the agencies that the applications for which the deals were scheduled for March 29 and 30 will be reinstated, and it will be possible to conclude agreements on them until April 8. Customers will be offered to submit new applications for applications with transactions from March 31 inclusive. Exceptions will be only cases where there are underage buyers or sellers, or a loan agreement has already been signed and the transaction is registered.
At the time of publication, the press service of Sberbank could not clarify whether this information is true.
Gathered the people's anger of Eugene Gorbunov, "Fontanka.ru"