Editor's note: "Living the Ribbon" is a bi-weekly column looking at the coming-of-age films and stories of UW and those who attend it.
For better or for worse, awards shows like the Oscars are deeply important and impactful. The movies and individuals recognized are not only likely to be remembered for decades to come, but they also shape the kinds of films that are going to be made and supported in the future.
The awards ceremony this year celebrated a lot of historic wins. Ariana DeBose became the first openly queer Afro-Latina to win Best Supporting Actress, Jane Campion became the third woman to win Best Director, and the cast and crew of "CODA" took home three awards — including Best Picture — as the first film starring a predominantly deaf cast.
"CODA," an acronym for "child of deaf adult," is a coming-of-age film focused on the main character Ruby, the only hearing member of her family. In addition to helping run the family's fishing business, Ruby acts as a standby interpreter at all times, helping her parents and brother understand doctor's appointments, court visits, and board meetings.
In an ironic twist, Ruby has a deep love and passion for singing. After joining a choir class and deciding to apply to Berklee College of Music, Ruby finds herself torn between wanting to pursue her dreams and being needed by her family.
Kristi Winter, an assistant teaching professor who teaches American Sign Language (ASL) at UW, saw "CODA" in theaters a few months ago during the film's limited theatrical release. Winter is glad the film was shown with open captions, or captioning that is displayed on the screen. If a deaf person wants to see a film in theaters, they often have to use a captioning device that sits in the cupholder of the theater chair. Frequently, the devices are not properly synced to the film's dialogue and they sometimes even skip scenes altogether.
Because of its Best Picture win, "CODA" is being rereleased in theaters, once again with open captions so that the film is accessible for all audiences.
"I was impressed [with the film]," Winter said. "Finally, there was more than one deaf individual, there was a cast. Historically, there's one person who 'represents' deaf people and everyone else is hearing … . They often had hearing actors portraying deaf people, which never really works."
It's more common for films to cast famous actors in disabled roles than to cast disabled actors. Casting a well-known star in favor of an unknown disabled actor is the "safer" decision for studios to make — and they're even more likely to get rewarded for it.
As the Chicago Tribune noted, "Eddie Redmayne, Colin Firth, Daniel Day-Lewis, Dustin Hoffman, Tom Hanks, Al Pacino, and Jamie Foxx have all won Oscars in the past two decades by playing visibly disabled characters — such roles are highly competitive ."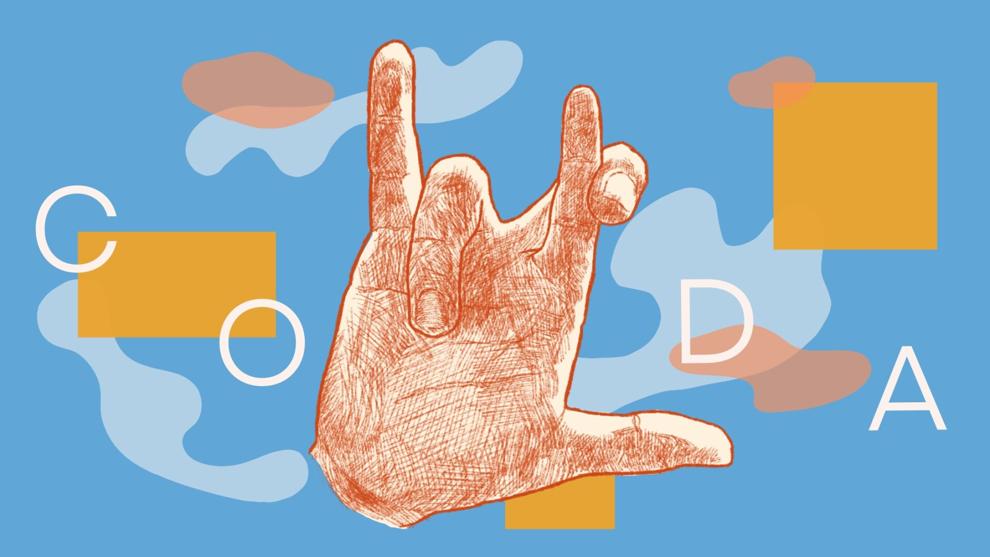 "CODA" excels as a film because it not only tells the stories of three deaf characters — it also stars them. Having deaf actors portraying deaf characters gives the film an authenticity that accurately portrays aspects of the Deaf community; the fluent signing from the actors makes the film accessible and relatable to deaf audiences.
"Most people have never had an opportunity to actually consider, 'What does a deaf family look like? What do they do everyday?' So I was impressed with how [the film] represented that," Winter said.
"CODA" swept the Academy Awards, winning every category it was nominated for: Best Supporting Actor, Best Adapted Screenplay, and the coveted Best Picture.
"It was surprising that it got other awards, not just best movie," Winter said. "And Troy [Kotsur]he's so skilled. He's really a gifted actor, so it was nice to see him finally break through and really be recognized outside the Deaf community."
A highlight of the film is Kotsur's performance as Ruby's comedic and loving father. Kotsur, who took home the award for Best Supporting Actor, has been an actor for over 20 years, but his role in "CODA" brought him to an entirely new level of fame. Winter expressed that Kotsur is incredibly fluent in ASL and "includ[ed] all aspects of the language" in his performance.
Kotsur became the second deaf actor to win an Academy Award. The first deaf actor to win was Marlee Matlin, who won Best Actress for portraying a Deaf character in the 1986 film "Children of a Lesser God." Matlin also stars in "CODA" opposite Kotsur as his wife and Ruby's mother.
"Children of a Lesser God" is a film that is less highly regarded by the Deaf community. The film, a romance between a hearing man and a deaf woman, is critiqued by deaf audiences due to its dim lighting and close-up shots. The stylistic choices make the film largely inaccessible to deaf people — Matlin's signing is frequently out of frame or difficult to understand.
Winter said that "CODA" visually improves upon "Children of a Lesser God." The film's lighting and framing ensures that all of the signing is presented in a way deaf audiences can understand.
"In 'CODA', they did very, very well," Winter said. "You could see the signing; they really filmed it in the way it should be filmed … I hope this is a sign that things are getting better. It's really exciting, [and] I really hope that they continue doing this and bringing in more deaf actors and more people who are skilled at filming them."
"CODA"'s sweep at the Academy Awards opens many job opportunities for not just deaf actors, but deaf filmmakers and other crew members. Winter hopes that "CODA" is the catalyst for more movies led by and about deaf people that express the diversity within the community. While "CODA" is one of the better representations of Deaf culture, deaf people are not a monolith — we need more stories that represent different aspects of the community.
Winter hopes that the film's popularity will spark more interest in ASL courses at UW.
"With 'CODA' being seen by so many people, I think the ASL classes might be growing," Winter said. "Maybe our classes will fill up. I think it will have an influence on [class size]which is a good thing. It's a real benefit for hearing people to learn ASL, not just for deaf people. Hearing people benefit as well."
Stream "CODA" on Apple TV+.
Reach columnist Natalie Roy at arts@dailyuw.com. Twitter: @nataliedroy
Like what you're reading? Support high-quality student journalism by donating here.
.