Basketball ,
04 Apr, 21:53

0
"Red Star" called on the Euroleague to punish "Zalgiris" for the action with the flag of Ukraine
Serbia's Crvena Zvezda calls on Euroleague basketball to launch disciplinary investigation into Lithuanian Zalgiris, whose basketball players staged a rally with the Ukrainian flag before the tournament match
Match "Zalgiris" – "Red Star"

(Photo: kkcrvenazvezda.rs)

Serbia's Crvena Zvezda has called on the Euroleague to investigate and punish Lithuanian Zalgiris for holding a politicized action with the Ukrainian flag before the tournament, according to a statement from the Belgrade Basketball Club's press service.
The match between Zalgiris and Crvena Zvezda took place on Sunday in Kaunas and ended with a score of 103: 98 in favor of the hosts. Before the match, the basketball players of the hosts and the judges lined up with a banner of colors of the flag of Ukraine with the inscription Stop the war ("Stop the war"). Players of the Red Star refused to participate in the action and did not take the banner.
According to the release, the Serbian club has informed the Euroleague board and Zalgiris that it will not participate in the action.
Serbian "Red Star" did not participate in the action with the flag of Ukraine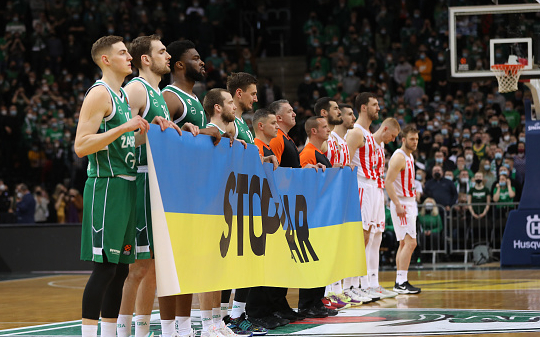 We have made it clear that we will not use banners with the colors of the flag of any state, because it means manipulating and politicizing one of the most humane and universal slogans "Stop the war." "Unfortunately, our request not to wear a banner that is not neutral was not granted (perhaps under pressure), and everything after that was a political spectacle, not a sport, and seriously violated the basic principles of the Euroleague and basketball." – it is told in the message.
Crvena Zvezda also drew attention to the behavior of Zalgiris fans, who first booed the Serbian team for refusing to take part in the action, then chanted insults against Serbia and Serbian fans, waved Ukrainian and NATO flags, and chanted Ukrainian nationalists.
"We have every moral right to expect an immediate response from the Euroleague, the initiation of disciplinary proceedings and adequate punishment for violating the basic principles and statutes of the Euroleague, as well as punishing all those responsible for politicized incidents, harassment of our team, our fans and our country in Kaunas." in a letter from a Serbian keomanda.
The Euroleague press service declined to comment on the incident.
"Basketball Euroleague constantly monitors all games and events that take place in them. Whenever and wherever anything is found that contradicts the competition regulations, the necessary measures are ultimately taken, "the Euroleague release said, quoting Match TV.
Earlier, the Euroleague board decided to exclude all Russian teams from the tournament – CSKA Moscow, Zenit St. Petersburg and UNICS Kazan, as well as Krasnodar Lokomotiv-Kuban, which played in the European Cup. All their results were annulled.
.