Intel has officially introduced discrete Arc A graphics accelerators for use in laptops. In the model lineup of five representatives, the first video cards are already available in production laptops. As for Arc A graphics cards for desktops and workstations, they will be released later this year.
The Arc A graphics accelerators presented today are based on the Xe HPG architecture and focused on a wide range of modern mobile systems. Each series, characterized by a certain level of performance, may consist of several models of discrete graphics cards.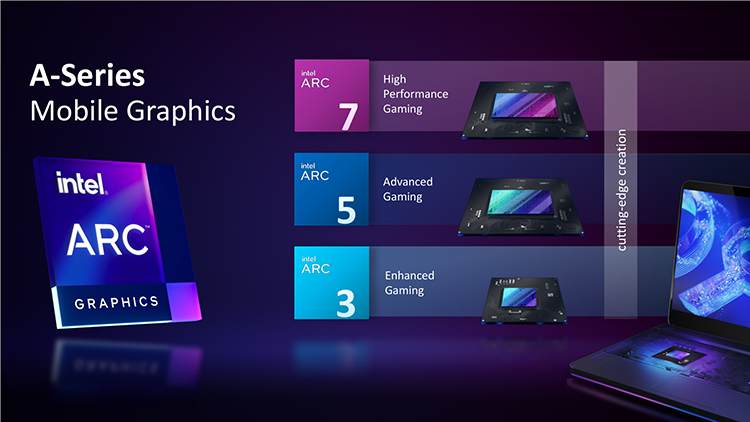 The lower-end Intel Arc 3 graphics cards target gaming at 1080p resolution. These include the A350M for ultra-thin laptops and the A370M for more productive thin and light systems. Intel promises that the A370M is capable of 60 FPS in modern games with medium quality settings and more than 90 FPS in competitive eSports games.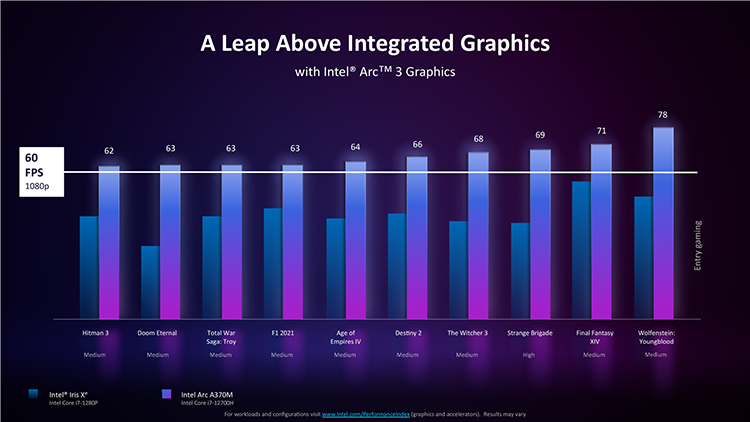 In its own tests, Intel compares the Arc A370M graphics card with built-in Iris Xe graphics with 96 actuators from Alder Lake processors, and the novelty looks one and a half to two times faster. This can be interpreted so that the Arc 3 series cards can be compared to the integrated graphics of Ryzen 6000 mobile processors (Rembrandt) in terms of gaming performance.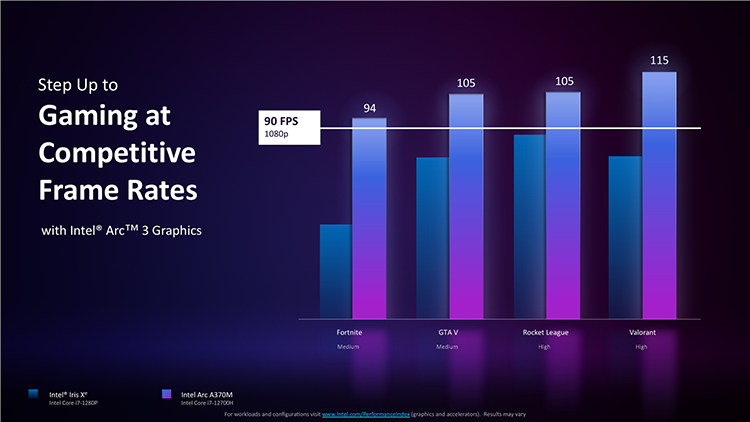 The Arc A350M received 6 Xe cores, 6 ray tracing units and 4 GB of 64-bit GDDR6 memory. The faster Arc A370M card has 8 Xe cores and ray tracing units, but the same amount of video memory. These cards are already available from laptop manufacturers and are available in finished products.
The Arc 5 and Arc 7 series will come out a bit later and get higher performance. The Arc A550M graphics card will have 16 Xe cores and ray tracing units, as well as 8 GB of 128-bit GDDR6. The Arc A730M will receive 24 Xe cores and a trace unit plus 12 GB of 192-bit video memory. And the flagship A770M will have 32 cores and RT-blocks and 16 GB of 256-bit GDDR6. Among other things, video cards vary in power consumption: while the younger versions of the Arc 3 consume from 25 to 50 watts, the older Arc 7 has a thermal package in the range of 80-150 watts.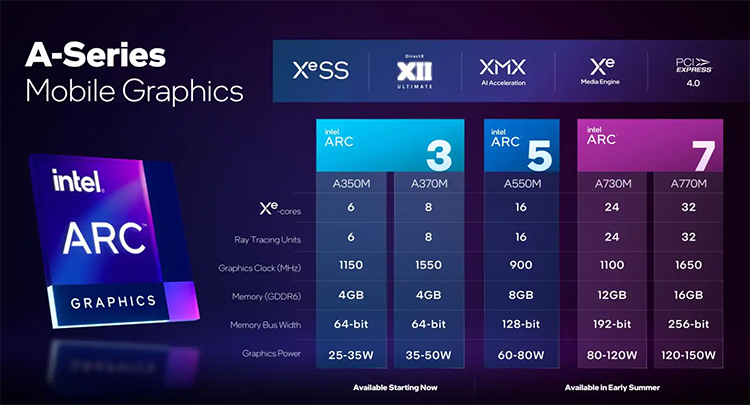 Each Arc GPU supports up to four HDMI 2.0b and DisplayPort 1.4a, which can work with panels and monitors of 4K / 120 Hz or 8K / 60 Hz. Intel's video card media engine is also capable of hardware decoding of 8K60 12-bit HDR video streams and encoding video streams with resolutions up to 8K 10-bit HDR. It supports all modern codecs, including not only VP9, ​​AVC and HEVC, but also the most advanced AV1 (including during encoding). According to Intel, AV1 hardware encoding in Arc graphics cards works 50 times faster than software encoding.
All Intel Arc graphics cards support Xe Super Sampling (XeSS) II-scaling technology. This technology itself, similar to NVIDIA DLSS, will be introduced in the summer. It is expected that at the time of launch, its support will be implemented in more than 20 games. Intel also promises to open the XeSS SDK and the necessary tools to easily implement scaling by all interested developers.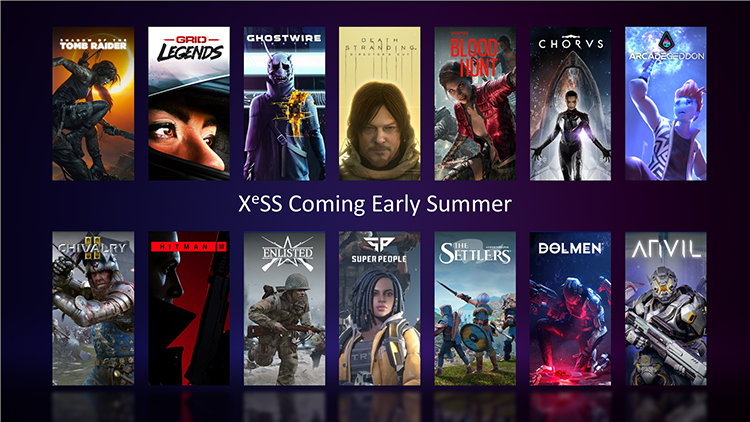 Another unique feature of Arc A graphics cards is Deep Link technology. Thanks to it, the resources of the discrete graphics accelerator can be combined with the units available in the processor's integrated GPU to solve a single task. The total capacity of such a tandem is increased up to 30%, but currently the technology is used only for computational tasks (II and video transcoding).
Laptops with Arc 3 graphics cards are now available to order – starting at $ 900. The first laptop with an Intel Arc discrete graphics card was the Samsung Galaxy Book2 Pro, but the list of partners who have chosen Intel discrete graphics cards for their solutions is very wide and includes names such as Acer, ASUS, Dell, HP, Lenovo, MSI and others.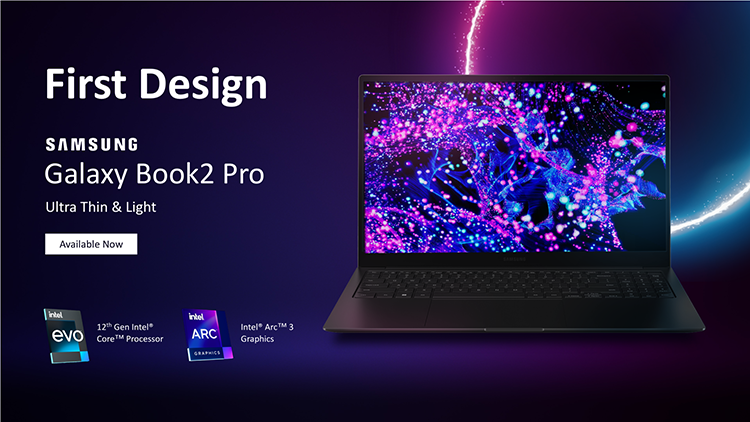 The Arc 5 and Arc 7 series mobile graphics cards will be available in early summer.
If you notice an error – select it with the mouse and press CTRL + ENTER.