Intel has probably revealed the features of the upcoming Arc A780 desktop graphics card. During the presentation of the new Arc Control software for Arc and Iris Xe accelerators, the company showed the characteristics of the video card that do not correspond to any of the officially presented models of mobile video cards Arc Alchemist. Probably a desktop model.
The Arc Control presentation featured various tabs of the program, including monitoring the status of the graphics system, as well as some settings for basic overclocking of the video card. One of the tabs showed information about the GPU speed of the video card, memory frequency, GPU and memory load level, power consumption level and other accelerator parameters.

According to these data, the GPU frequency of the video card is 2200-2250 MHz at 99 percent load. Recall that the flagship mobile graphics card Arc A770M graphics chip runs at up to 1650 MHz. In fairness, it should be noted that the GPU of the junior mobile video card Arc A350M, for which the claimed frequency of 1150 MHz, in theory, can also be manually overclocked to 2.2 GHz. This was confirmed by early leaks from the Geekbench synthetic test database.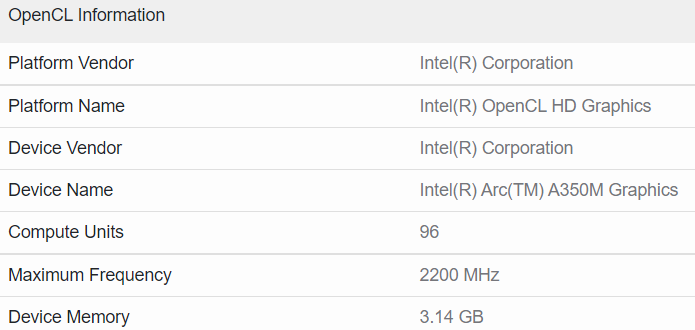 Assumptions about the desktop nature of the accelerator are reinforced by other facts. So the Arc Control application demonstrated a TDP of 175 watts. None of the Arc mobile video models introduced two days earlier has such an energy consumption indicator. For example, the flagship Arc A770M is 150 watts. However, in theory, the accelerator can achieve a higher TDP thanks to support for Intel Deep Link technology, which can distribute power between the CPU and GPU in those scenarios where needed.
It should also be noted the frequency of video memory, which, according to the information provided, is 1093 MHz. Thus, it provides a data rate of 17.5 Gbps. Recall that the mobile graphics cards of the Ars Alchemist series use GDDR6 memory with a data rate of 16 Gbps. Overclocking memory for mobile GPUs is unlikely, which only reinforces the assumption that Intel showed in the video characteristics of the desktop model of the Arc video card.
If you notice an error – select it with the mouse and press CTRL + ENTER.