Famous dancers Marina and Artemy Katashinsky began their sports career with figure skating. Asmik Vardanyan's mother brought her brother and sister to the ice, she was their coach. Together with Marina and Artemiy, the skating rink was shared by a very young Evgenia Medvedev. However, unlike Zhenya, the Katashinskis did not stay in figure skating for long. Brother and sister went to sports dances (on the floor), where they achieved great success. They have won the championships of Russia, Europe and the world. In addition, Marina and Artemiy took part in the popular television projects "Dances" and "Dance Revolution". But the Katashinskis could not completely forget about figure skating. Now the dancers work with young skaters and stage programs.
In an exclusive interview with the Championship, Marina and Artemiy talked about what Russian ice dances lack and why they admire Papadakis and Cizeron.
They also shared how they trained with Evgenia Medvedeva as a child.
"Dancers can always and everywhere show their skills. And skaters, unfortunately, are limited to skates and ice "
– Marina and Artemiy, you had the opportunity to be realized in figure skating, but you chose sport dances. Why?
Marina: It was a sensible and meticulous decision by our mother, because she did not want to freeze us on ice. Our mother, having gone through all the difficulties and injuries, understood perfectly well that figure skating is a titanic job.
Artemiy: Of course, dancing is also a huge investment, both financial and moral. But the most important criterion was that her children were always warm.
"Have you ever regretted your choice?" After all, figure skating is one of the most popular sports in Russia.
Artemiy: We never regretted choosing to dance. It is hard to argue that dance is less spectacular, less popular than figure skating. It is clear that in figure skating there is a clear system of evaluations and this sport is Olympic, has additional spectator coverage.
Marina: But dance is even closer to people. If everyone looks into childhood, he will remember how he went to dances. Dancers can always and everywhere show their skills. And skaters, unfortunately, are limited to skates and ice.
Photo: From the personal archive of Marina and Artemy Katashinsky
– As a dancer, what kind of figure skating do you like the most from an aesthetic point of view?
Marina: As dancers, the closest to us is the pair direction, because we dance in pairs. But single skaters are also interesting, because all the attention is focused on the soloist, and this is just an additional responsibility. We try to follow sports dances as often as possible, we get a lot of integrations from there. We try to pay attention to almost all sporting events.
– During your sports career, were you equal to any skaters?
Marina: Throughout our conscious life, as our mother is an expert in figure skating, we are fully involved in the process. I was always surprised by Alena Savchenko, this girl is a fighter. She won at every Olympics, changing partners, succeeding and achieving what she dreamed of.
Artemiy: For me, Irina Slutskaya is an example of a figure skater who should be emulated. If you include music from Irina's program at the 2006 Olympics, 100% of the goosebumps will go.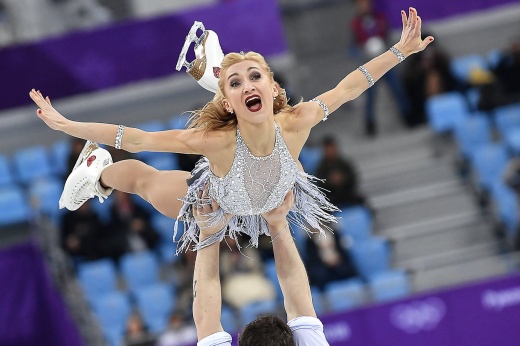 "I want my daughter to see me at the Olympics." How Alena Savchenko laughs at stereotypes
– Can you name three skaters who made the biggest impression on you in figure skating?
Artemiy and Marina: Johnny Weir, Michelle Kwan, Alexei Yagudin.
"Papadakis and Cizeron – an example of what ice dancing should be like"
– As a dancer, dancing on ice is probably closest to you. How closely do you follow this species?
Artemiy: Of course, we follow this direction, as we must be aware of everything that is happening, because we work with many couples who take part in the championships of Moscow, Russia in figure skating.
Marina: We are fully involved in this process and try to help our athletes to reveal their dance part, to make the jury members and the audience watch the dance on the ice from the other side.
– The real masters of ice dancing at the moment are Gabriela Papadakis and Guillaume Cizeron. How do you like this duo?
Marina: We adore the French Gabriela and Guillaume! They can not be confused with someone, they are real people on the ice, the perfect complement to each other! For us, they are an example of what ice dancing should be like.
– Papadakis and Cizeron are often said to be a couple of a completely cosmic level. What is special about their style? Are they really head and shoulders above the rest?
Artemiy: Arguing from a dance point of view, they are very modern – bold choreography, original dance solutions, unpredictability. Plus complex supports, interesting connections – it seems that they are not just performing, that they are creating the art of dancing on ice.
Marina: Synchronous movements, feelings – an incredibly beautiful couple, leaders in figure skating. I want to emulate them, strive for their level. They are very inspiring to us and, I am sure, to our skaters.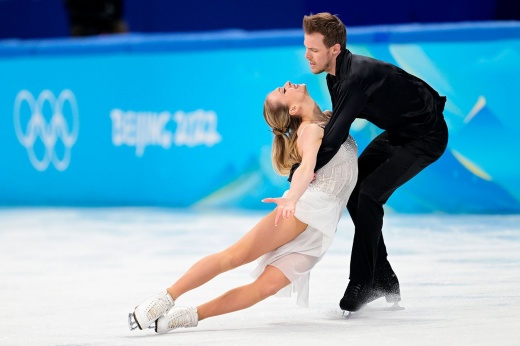 Sinitsina and Katsalapov – space. Only the genius French could stop our couple
– What do you think Russian dancers lack to compete with Papadakis and Cizeron?
Marina: When the ingenious Papadakis and Cizeron appear on the ice, it is very difficult to compete with them. Our skaters should learn from them the approach to staging the program, it is more multifaceted. In ice dancing, the soul is important, the impressions that will remain after the rental.
Artemiy: In the technical component, our dancers are not inferior to the current Olympic champions. The only thing is the minimum amount of artistry. If we tighten the artistic component, we would reach a new level.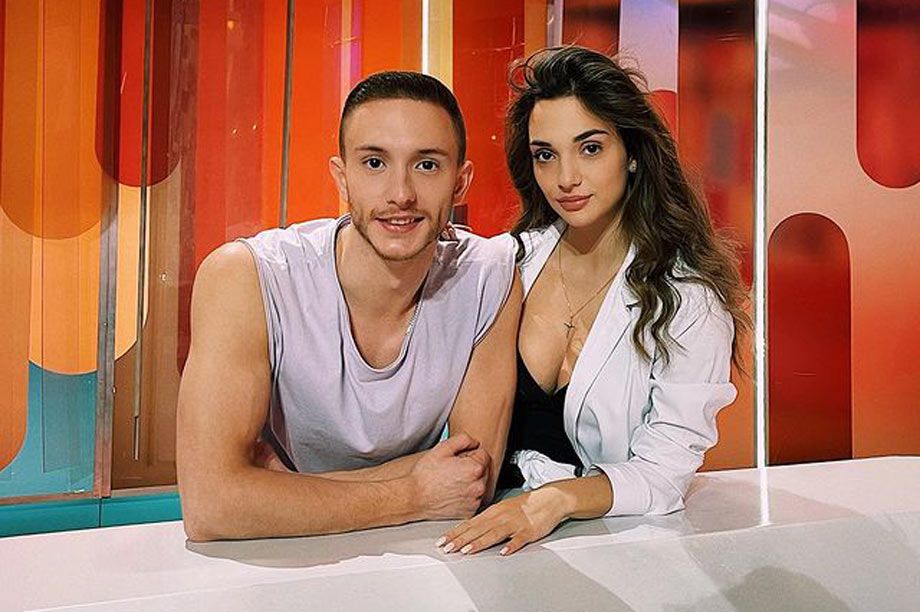 Photo: From the personal archive of Marina and Artemy Katashinsky
"There is a feeling that in ice dancing we are walking on a trodden path"
– There is no feeling that the school of Russian dance on ice is outdated?
Marina: There is a feeling that we are walking on a trodden path, I want to add creativity. This would be a new sip for athletes both domestically and internationally.
– For the last four years, two couples have dominated Russian ice dancing: Sinitsina / Katsalapov and Stepanova / Bukin. Which duo do you like the most and why?
Artemiy: This is a rather provocative question, because of the two couples in the world, we support both Sinitsyn / Katsalapov and Stepanov / Bukin.
Marina: Both pairs are currently leaders, and each of them has its own highlight, then it's just a technical component.
– What do you think Stepanova and Bukina lack to compete with Sinitsina and Katsalapov?
Artemiy: The guys have absolutely everything to compete with Sinitsina and Katsalapov. They are charismatic, perfectly complement each other, light on ice. They performed well at their first Olympics, they were very angry – they will come back and compete for medals. We believe in them, the Olympic awards are only a matter of time. We adore ambitious and driving athletes, we believe that the guys have a great sports future!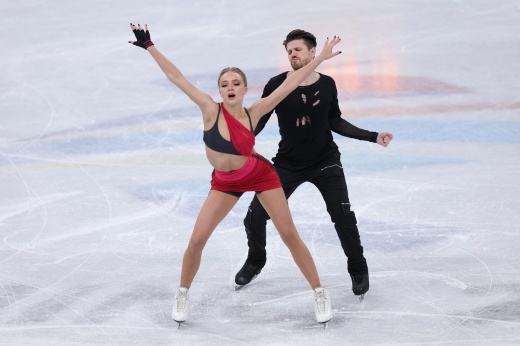 Do not take your eyes off! The most beautiful figure skaters at the Olympics are dancing on ice
– After the Olympic season, many dancers will leave the sport. Have you already noticed which of the young people can take the lead in the next cycle?
Artemiy: The Olympic cycle is coming to an end, a new generation is coming, and it is very difficult to bet on someone because any sport is traumatic. And you can't think of anything. We need to pause and look at the results of the final championships.
"It's nice to watch Medvedev not only as an athlete, but also as a person"
– Single skating is also close to you – as a child you trained for some time on the same ice with Evgenia Medvedeva. Then you might have thought that Zhenya would grow into a figure skating star?
Marina: Riding on ice since childhood, we learned the main lesson that there are physical data that determine the ability and possibility of a child to be successful. Girls who are engaged in figure skating should be light, well-honed, tennis – squat, volleyball players – tall, with long arms.
Artemiy: Before a child can engage in a sport, he must pass a screening. Many coaches do not take children to sports sections that do not meet certain criteria. Zhenya has shown herself in figure skating since childhood.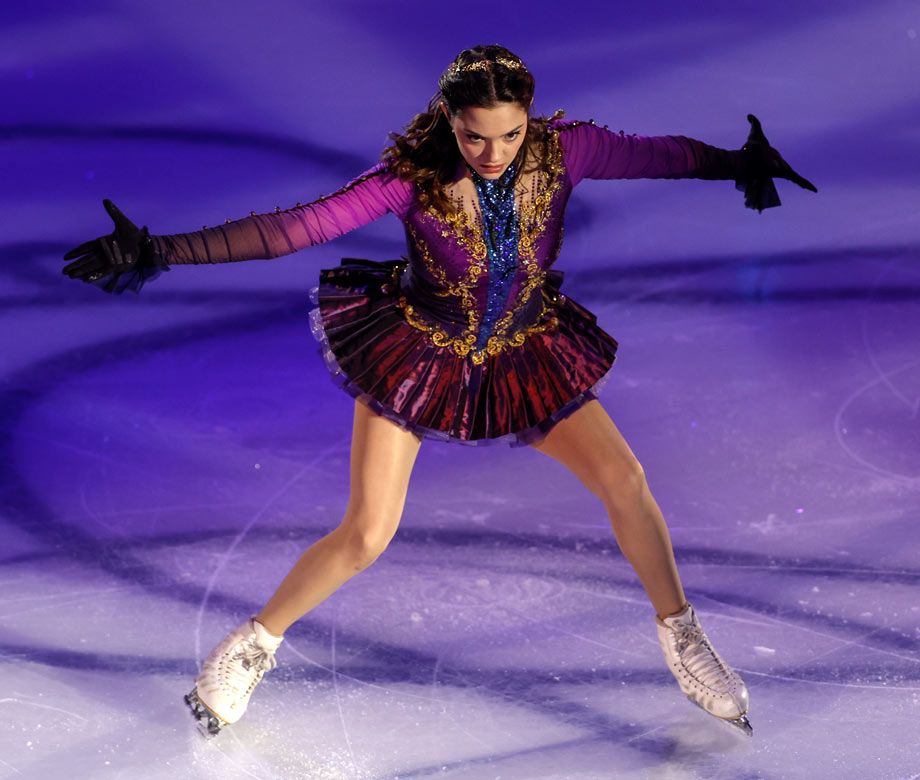 Photo: Alexander Safonov, "Championship"
– Medvedev is often called a special figure skater. Can you explain what makes it unique?
Marina: She has a unique body structure, in addition to all this, she has charisma, character, external data. It is nice to watch her not only as an athlete, but also as a person.
– Which of the current generation of skaters impresses you and why?
Artemiy: It's hard to single someone out. As choreographers, we understand that every girl has her own story. And we have great respect for the food they give the audience. We will not single out anyone, but we will thank everyone for their great contribution to sports history.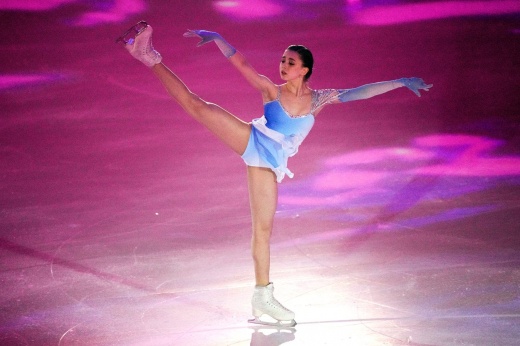 Sensual and ingenious. Valieva eclipsed Shcherbakov on the show and brought the audience to tears
– Now, after a while, you still returned to figure skating, but as directors. How did this happen and for whom do you put programs?
Artemiy: It all started with our mother's figure skating school. For the first time in the role of choreographers-directors we performed there.
Marina: One day we came to her school, and there was an ice class with a little girl who did not understand how to combine the movements of her arms and legs. Artemiy and I invited her to do choreography. And the next time on the ice she succeeded.
Artemiy: After working as choreographers at the Anna Levandi Figure Skating School in Estonia, I managed to work with Gurgen Vardanyan in Hungary.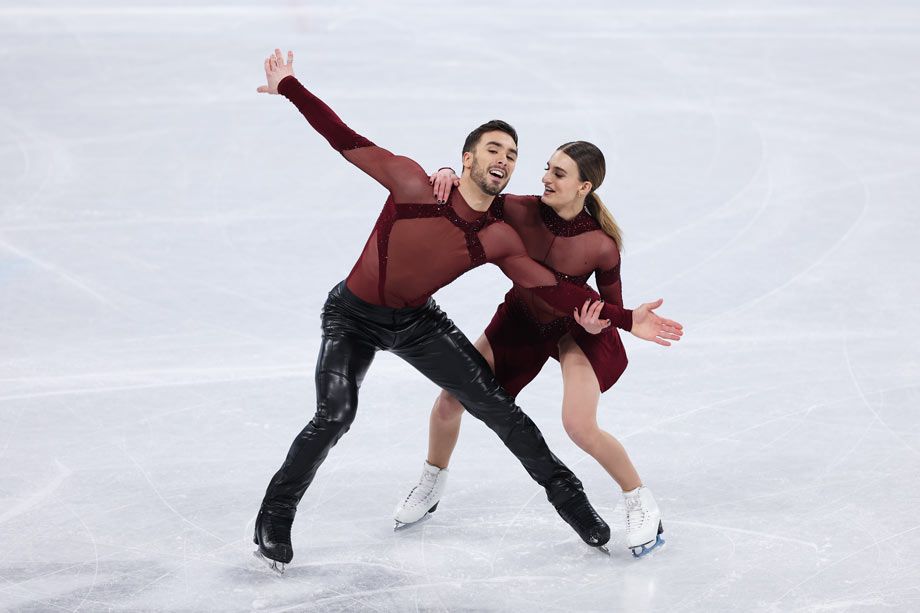 Photo: Matthew Stockman / Getty Images
– Are there any skaters you dream of working with?
Artemiy and Marina: I would like to share my experience with skaters who are part of the Russian team.
– Which directors in figure skating are you equal to?
Marina: We believe that the choreographer-director who should be emulated is Elena Tchaikovsky. He is an outstanding man, a teacher with a capital letter. The director must be a person who has something to tell. And the scale of Elena Anatolyevna's personality is immense.
– Now figure skating is moving more towards complexity. What do you think modern figure skating lacks from an aesthetic point of view?
Artemiy: The first thing we pay attention to is the visual part, starting with makeup and hairstyles, ending with details on the dress. Everything must be turned! Second, musical accompaniment. Sometimes there is a feeling that the same thing is passed from hand to hand from year to year.
Marina: And the third – the aesthetics of movement, staging. If we emphasize this, we will enjoy it.