In the off-season, the Lakers were named one of the main favorites for the championship. It is hard to believe that the team will help LeBron James win the fifth title of his career. But the King does not give up and continues to fill personal statistics. Today, he is ahead of Carl Malone on the list of the most productive players in NBA history. Only the legendary Karim Abdul-Jabbar is ahead – and his record is unlikely to stand.
To bypass Malone, in the last match with the "Wizards" (119: 127) LeBron had to score 19 points. James overfulfilled the plan and scored twice as much – 38. Defeating "Washington", alas, did not help, and the "Lakers" suffered their ninth defeat after a break in the All-Star Game. But the King's personal achievements were still replenished. And now he is the number two scorer in the history of the league.
The most productive players in NBA history
1. Karim Abdul-Jabbar – 38,387.
2. LeBron James – 36,947.
3. Carl Malone – 36,928.
4. Kobe Bryant – 33,643.
5. Michael Jordan – 32,292.
6. Dirk Nowitzki – 31,560.
7. Wilt Chamberlain – 31 419.
8. Shaquille O'Neill – 28,596.
9. Carmelo Anthony – 28 218.
10. Moses Malone – 27,409.
The only current player in the top ten, apart from James, is his teammate Carmelo Anthony. There is a difference of more than 8,000 points between them, and 37-year-old Melo clearly does not claim to compete. But he is certainly very proud of the success of his teammate.
"I am just happy to be with him as he continues to do what he does. Especially when you consider that James was not, as they say, "famous" for gaining a lot of points. Now he has a chance to become the number one top scorer in NBA history. He performed at a record high throughout his career. When I was younger, I thought no one would catch up with Carl Malone and Karim, "Anthony said.
Malone is behind us, but Abdul Jabbar has yet to catch up. It took Karim 1,560 games to become the NBA's most productive under-42 player. This is the second result in history – only Robert Parish (1611) played more than him. But LeBron currently has only 1,363 matches. And he will be able to get ahead of Abdul-Jabbar in the top scorer race next season.

LeBron set an unthinkable NBA record. True greatness that will not be appreciated
Between LeBron and Abdul Jabbar 1440 points. For a better understanding: this is less than the King has already scored in the current draw (1580), and the Lakers have 11 more games left. James is not going to end his career yet, and for him this figure is more than achievable. So to the title of the most productive player in the history of the NBA LeBron at hand. But he himself, of course, will try not to think about it.
"I do not allow myself to think about it. I always just play basketball the way I've played for years. And these things happen by themselves, if I just go out on the field and play properly. I hope to achieve this at some point in my career, but I will not think too much about it, "said LeBron.
Photo: Patrick Smith / Getty Images
And rightly so – James already has something to think about. The Lakers are currently ninth in the Western Conference standings. For the first time since the King's debut season, his team is going "-11" by the difference between wins and losses. And in terms of the percentage of victories, Ozerniki is closer to 12th place than to eighth. And to stay in the playoff zone, you still have to try.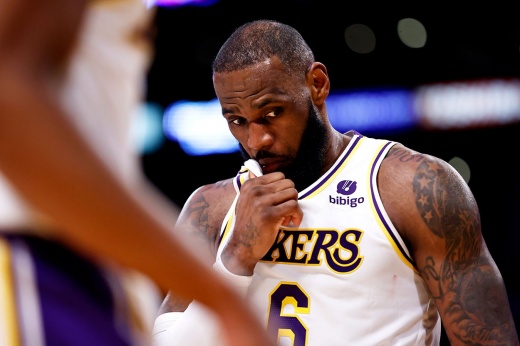 The Lakers are a complete disaster. And even LeBron can't handle it anymore
It is worth noting that in the last eight matches LeBron has released amazing statistics: 35.4 points, 8.9 rebounds, 5.9 assists with 53.8% of sales from the game and 40.3% – because of the arc. At the same time, he spends an average of 37 minutes of playing time on the court. This is the most in the Lakers, more than in his last five seasons, and in general the second result in history among players aged 37 and over. Of course, there is not much sense in this, but this is not the case with LeBron.
The problems of the current composition of the "lakes" arose at the stage of its formation. Now James every now and then breaks down and reports to his teammates. The King himself admitted that this season his ability to tolerate is undergoing serious testing. But at the same time he still manages to perform at a consistently high level. This, alas, does not help the team to win, but looming individual achievements on the horizon somehow support motivation.
No matter how the current season for the Lakers ends, for LeBron personally, he can already be considered successful. It is impossible to predict what will happen next year. But if James is not seriously injured, he is almost guaranteed to break Abdul Jabbar's record. This season has shown that he is able to score points, no matter what. The king wants to go down in history. And nothing seems to stop him.