Alexander Ovechkin, having forgotten about his already quite respectable age for hockey, does not think to slow down. He throws puck, distributes power techniques and charges everyone around with his inexhaustible energy. His Washington partner TJ Oshi spoke about the phenomenon of the Russian car that does not break in the Spittin 'Chiclets podcast. He also talked about how Ken Hitchcock's methods deprived him of the joy of hockey, how he returned it after moving to "Washington", the victory in the Stanley Cup – 2018 and the famous bulletin series against Sergei Bobrovsky at the Olympics in Sochi.
"Pushing with Ovechkin before the match is on the verge of cruelty, he's just a monster"
– I want to ask about your pre-match ritual. Why does Ovechkin make printer-like sounds when you leave the locker room?
– He does "brrr", I call it O- "brrr" – cool. We do it ten times a day.
– Sometimes, when you push before a match, you look like sumo wrestlers.
– For me, it's on the verge of cruelty, because he's just a monster. I even hit him in the face a couple of times with my helmet twitching from his blows. A couple of times I got a shoulder injury, a couple of times – a chest injury, but this is our fun ritual.
– And Carlson and Ovechkin are still beating each other in the groin.
– You can go crazy as they beat each other on the shell! I think even the fans at the end of the tunnel hear it. And in the stands the music is screaming, the fans are making noise, and you can still hear the sound of a cracking shell!
"Under Hitchcock, hockey was not fun. I lost my attacking creativity "
– You played with Ken Hitchcock for several years, what was your relationship with him?
– We got along well, often talked outside the ice. But he always said that you need to stop taking risks and it's better to just throw the puck in the zone and then return it. I kept thinking: "Hitch, well, I have the puck, why should I give it to then return?". And he said – you're a forechacker, so be it. In those years, I lost my attacking creativity and self-confidence. After the exchange in "Washington", everything turned upside down. I played 10 matches, and they came up to me and said – just do what you want, play with the puck. Fifty matches passed, maybe a year or two, until I threw that voice out of my head, which says, "Just don't get circumcised." It was a big shift in my career, I was just able to enjoy hockey.
"Didn't you try to talk to him about it or just gave up?"
– In the end, I just gave up. He explained to me that if I threw the puck deep into the zone, then I could fight and take it from the defenders. That this is a better chance to get caught in the zone than to try to screw opponents at the entrance to the zone. Hitchcock is a great hockey mind, and St. Louis was not a skilled team at the time. Apparently, he wanted us to play like that, but hockey was not fun for a couple of years.
– When there were rumors about the exchange, did you want to change the club yourself?
– No, I have always been loyal to the team I play for, and I imagined that I would play for St. Louis all my life. When I was exchanged, it seemed to me that I let down the team, partners, fans, I regretted that I could not win the Stanley Cup there. But when you realize that you will now play with Bekström and Ovechkin, there is enthusiasm.

Ovechkin is the best of his kind in NHL history. What other legends will he go through until the end of his career?
"There was a feeling that if we passed Pittsburgh, no one would stop us."
– For a couple of years, "Washington" won the regular season, but was eliminated in the second round. Was there a feeling in the locker room that one day the Stanley Cup would win you over?
– I remember then everyone was talking about the two-year championship window of "Washington" before my, Williams and a couple of other guys have not expired contracts. After that, I went to McLellan and said I wanted to stay on the team. Probably not the best negotiation tactic, but I wanted to stay and told him we could win the Stanley Cup, or even a couple. The next year, when he saw Mack after the victory, he hugged him and said, "Well, I said!"
There was a feeling that we could, and if we passed Pittsburgh, which was the coolest at the time, no one would stop us. That's how it turned out.
– When we lost the first two matches of "Tampa" in the final of the East, there were no thoughts: "Well, is it starting again?"
"None at all!" When Kuznetsov scored the decisive goal in overtime in the series with Pittsburgh, we had only one feeling. Whatever happens, we will win. Then no one had any doubts. If someone made a mistake, played a bad match, everyone knew that in the next game will be corrected, and so it happened. It was amazing.
– Many consider one of the key moments in the victory that Ovechkin changed his game. Was that the case or was it the effort of the whole team?
– Ovi has definitely taken his game to a new level, but so have the others. Once Ovi goes under the throws, it will look bad if you don't do the same. Nobody did anything special, just played like in the playoffs, followed the plan for the game, everyone knew what to do in any situation, were like a fist.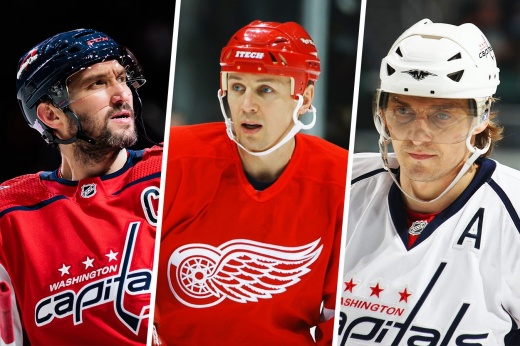 When age is not a hindrance. As legendary Russian forwards played in the NHL after 35
"I don't know what test can be done on Superman, but Ovechkin is made from another test"
– Were you shocked when you could watch Ovechkin play and train every day? He scores 50 goals every year, crashing into rivals to the right and left.
– It's like seeing a story in training. I have never seen such a thing in my life, I have never been so close to something majestic. I do not want to exaggerate, but it is. I always wanted to win in everything, even if the question was to get garbage in the trash. Acquaintances were always furious, did not understand why I had to win in everything. It wasn't until I met Ovi that I realized how my acquaintances felt. He just wins, everywhere. A game of cards? If he plays carefully, he will surely win. If he wants to score on the ice, he will score in any case, and it doesn't matter what the other team does. This is amazing.
– They say he drinks soda during matches, what do you say about that?
– He is not a man, no matter what sphere of life you take. I don't know how to test it for Superman, but Ovechkin is just made from a different test and runs on a different fuel. When I first saw him drinking soda just before going out on the ice, I thought it was funny. But he does things his own way. I will not say that he is superstitious, he just has his own order. It works and it's hard to stop.
– How much longer will Ovechkin endure at this pace?
– I think it's up to him. If he trains the same way he has for the last couple of years, he will be able to keep the bar high for quite some time. I don't think his sniper skills will go away any time soon, because he has a great shot and a hunger for discarded puck.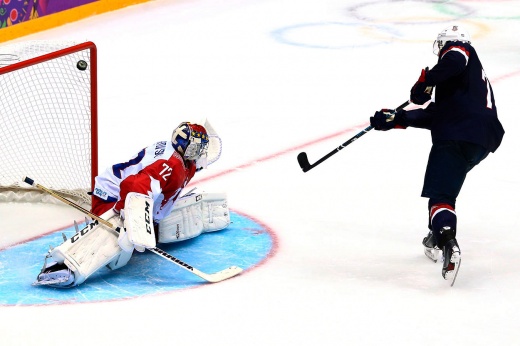 Damn bullets. How Oshi and Terry beat Russia in a series of free throws
– Remember one of the most legendary Olympic hockey moments – a bullet series with Russia? When did you realize that you would be released for each bullet?
– We worked on the bullets in training, and I did well, so I assumed that in case I was released. I scored on the first try and thought that maybe I would be released if the series dragged on. But after each of my bullets, I didn't know I would keep beating. When I missed my fifth shot, I thought – why not release Kane or someone else? But I was also released on the sixth shot, and I was sure I would score.